Bio-Pac SF#30 - For Shallow Trickling Filters
Product Announcement from Jaeger Environmental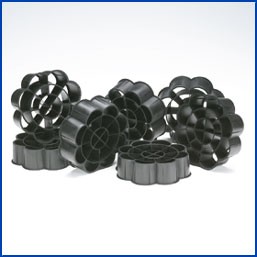 Random plastic media for trickling filters, submerged beds, and anaerobic reactors.
Bio-Pac SF#30 is ideally suited for either replacing rock in existing trickling filters to improve treatment plant performance or for installation in new trickling filters. Bio-Pac is also commonly used in aerobic and anaerobic submerged attached growth systems. Manufactured of UV stablized polypropylene for long life.
UV stabilized polypropylene media capable of redistributing wastewater every 2" of media depth. Excellent for use in shallow trickling filter applications. Also used extensively in upflow anaerobic and aerobic submerged bed reactors.
Download data sheet for more information.
---