Heavy Duty Vee Blenders Ideal for Powders & Solids
Product Announcement from Jaygo, Inc.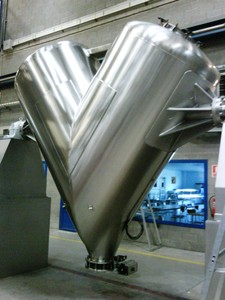 Jaygo recently supplied a large Vee Blender (model JVB-8000) for use in the Pharmaceutical industry.
Heavy Duty Vee and Double Cone Blenders can be designed with liquid feed bars, intensifier bars, jacketed for heating or cooling and to operate under vacuum. Standard capacities from 0.15 cubic feet to 280 cubic feet.
Jaygo Vee Blenders are the most gentle and cost effective ways to efficiently blend various powders.
The equipment can be supplied in sanitary construction and include a jacket for heating / cooling, vacuum outlet with filter, and a High Speed Intensifier Bar to break up agglomerates and speed product drying.
The interior product contact parts are normally polished to a mirror finish.
All drive components can be enclosed in stainless steel shrouding to enhance cleaning and appearance.
For more information on this, please contact us at sales@jaygoinc.com
---