Pressure Vessel Clamp ...quick release system
Product Announcement from Jaygo, Inc.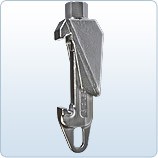 Pressure Vessel Clamps
Jaygo carries a full line of pressure vessels clamps designed to work with ASME code pressure vessels. Our quick release pressure vessel clamps eliminate the need to drill holes in the flange of the vessel, eliminating the stress concentrations at the bolt holes. Eliminating these stresses allows the flange to be thinner while providing the same closing strength. Modern clamps are designed for compliance with all applicable ASME section VIII safety requirements and are approved for use by all major insurance companies. Not only do our quick release clamps save time and money in the design and fabrication of the vessel, they drastically reduce the time required to open and close the vessel, providing continual labor savings. At Jaygo, we specialize in customized solutions that help our clients increase safety and efficiency in their processing operations.
Segmented Screw clamps are available in a number of configurations including wing nut, and acorn nut with limited release, downward release, and reversing swing options. Clamps are constructed from carbon steel, alloy steel, or stainless steel with zinc plating, electropolished, pickled, or passivation coatings. We carry a full range of clamp sizes with opening sizes from 13 - 560 mm in standard or metric threads. Our quick release pressure clamps are ideally suited for reactor vessels, pressure vessels, vacuum vessels, pressurized filter housings, mix vessels, Nutsche filters, centrifuges, and manways. We operate a special test lab specifically for testing clamps by traceability number and can assist in choosing the appropriate size and strength of clamp for a given application.
We carry stock on our most popular clamps to provide customers with expedited turnaround of the most commonly ordered clamp sizes and configurations. For more information about our pressure vessel clamps and capabilities chart, click here.
SAVE TIME AND MONEY
REDUCE LABOR TIME IN HALF or less as compared with standard nut and bolt
NO DRILLED FLANGES - Closing force acts near vessel wall
LESS Material (Narrower & shallower flange section)
LESS Preparatory Work
LESS Machining (drilling, rolling, etc…)
FEWER closing screw clamps than standard nut and bolt
QUICKER RELEASE with fewer turns of each nut
SAFER - Eliminates dangers created by missing nuts and bolts
INDUSTRIES SERVED
Food & Dairy
Chemical & Petro-Chemical
Pharmaceutical & Health Care
Electronics
Paints & Coatings
Paper & Pulp
TYPICAL APPLICATIONS
Reactor vessels
Pressure vessels
Vacuum vessels
Pressurized filter housings
Mix Vessels
Nutsche filters
Centrifuges
For more information on these and other products, please contact us at sales@jaygoinc.com
---