Pressure Vessel Clamps... Save Time & Money
Product Announcement from Jaygo, Inc.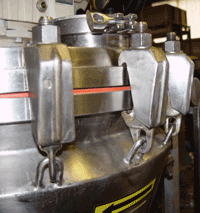 Pressure Vessel Clamps
Clamps designed for use with ASME code vessels


Jaygo's - quick-release clamp system is the most practical and widely used means of positively securing flanges in pressure vessels or processing plants. The clamps replace conventional swing bolts and typically provide substantial saving over stud bolts on any vessel or processing plant requiring even occasional opening. A wide ranged of sizes and types are available, including special versions with limited swing, downward release, reversing swing, etc…
The latest designs satisfy all of the pressure vessel inspection codes and vessel requirements, and are therefore approved by all major insurance companies.
SAVE TIME AND MONEY
REDUCE LABOR TIME IN HALF or less as compared with standard nut and bolt
NO DRILLED FLANGES - Closing force acts near vessel wall
LESS Material (Narrower & shallower flange section)
LESS Preparatory Work
LESS Machining (drilling, rolling, etc…)
FEWER closing screw clamps than standard nut and bolt
QUICKER RELEASE with fewer turns of each nut
SAFER - Eliminates dangers created by missing nuts and bolts
INDUSTRIES SERVED
Food & Dairy
Chemical & Petro-Chemical
Pharmaceutical & Health Care
Electronics
Paints & Coatings
Paper & Pulp
TYPICAL APPLICATIONS
Reactor vessels
Pressure vessels
Vacuum vessels
Pressurized filter housings
Mix Vessels
Nutsche filters
Centrifuges
This unique screw clamping system is utilized for securing tank covers, manways, port holes, and flange openings without the necessity to drill and tap bolt holes into the flange surfaces, saving material and time in building and assembling these flanges.

Clamp is secured by means of forged eye and link staple welded on to the vessel.
For more information on these and other products, please contact us at sales@jaygoinc.com
---