5-Axis Drop&Lock™ Pallet Changer & Pull Stud
Featured Product from Jergens, Inc.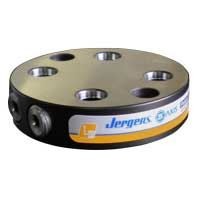 Drop a fixture or Vise into the Pallet Changer using the Fixture-Pro® pull stud system. With two quick turns of a hex wrench it's ready to machine.
Material: A2 Steel
Hardness: Rc 58-62
Flatness: Ground 0.0002
Thickness Tolerance: +/- 0.001
Finish: Black Oxide
Pallet Pull Studs
Used to adapt any machineable part or fixture by mounting directly to the part for use with our quick change Fixture-Pro® Pallet Changer
Material: A2 Steel
Hardness: Rc 50-54
5-Axis Drop&Lock™ Pallet Changers & Pull Studs
Jergens Workholding Solutions presents a truly modular approach to 5-Axis machining.
The Drop&Lock™ Pallet Changer serves the sames function as a fixture plate, although it doesn't have to be locked down with 4 set screws. Instead, it is installed with pull studs dropping into the bottom of the fixture or vise to literally drop into the pallet changer. Available in Round or Square patterns. Drop it, Lock it, and go !
Advanced Implementation of Quick-Change Fixturing Technologies Across Machine Platforms
Today there are more quick change technologies available than ever before for multi-axis, horizontal and vertical machining centers.
Explore the benefits of broadly implementing a quick change fixturing strategy to achieve plant wide savings in setup and part changeover time with Jergens' Workholding Solutions.
Jergens' components create opportunities to complete multiple operations using the original clamping, again reducing set-up time, but also increasing accuracy and repeatability. Contact us to discover methods for applying your specific needs for improved manufacturing and ROI.