75mm Self Centering Vise & Accessories
Featured Product from Jergens, Inc.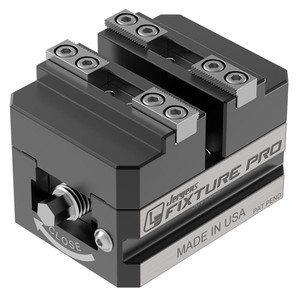 The compact design is engineered as a perfect fit to the Fixture Pro System. Use the Drop and Lock locating and clamping feature or use locating pins and optional clamps to use in our QLC grid plate system. There won't be much you can't throw at this Low Profile vise.
Versatile mounting options, compatible with the following popular platforms:
Jergens Fixture Pro – QLS (50mm pattern)
Jergens Fixture Pro – Drop & Lock (60mm pattern)
Jergens Quick Loc (52mm & 96mm patterns)
Lang Quick Point (52mm & 96mm patterns)
5th Axis RockLock (52mm & 96mm patterns)