Jergens Fixture-Pro® self-centering vise line
Featured Product from Jergens, Inc.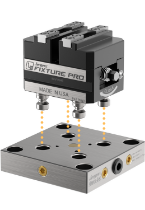 FIXTURE-PRO® SELF-CENTERING VISE LINE
Jergens latest family of self-centering vises has been engineered to be the ideal solution for low profile five-axis workholding. Available in both 130mm and 75mm widths, they can accommodate a wide array of workpiece sizes. The quick change jaws incorporate a pull down feature to actively minimize jaw lift. Multiple jaw styles make this vise system configurable for most workholding needs, from first operation to finish work.
Clamping Force:
• 75mm vises: 3,500 lbs @ 50 ft*lbs
• 130mm vises: 3,600 lbs @50 ft*lbs
• Leadscrew features rolled trapezoidal threads for superior strength and durability
• Low friction surface treatment of critical components improves performance and reduces wear
• Adjustable centerline for easy re-centering
Jergens Inc
Jergens Inc., is an ISO 9001:2015 certified, world leader in manufacturing industrial workholding solutions, specialty fasteners and lifting hardware in Cleveland, Ohio.
WORKHOLDING
Quick change fixturing
Jergens is a world leader in quick-change fixturing. Our industry-standard Ball-Lock Mounting System quickly and accurately locating fixtures on machine tables. Fixtures can often be exchanged in less than a minute and with position repeatability of +/-0.0005" (+/-0.013mm).
Multi-axis workholding
Our Universal Vise & Pallet provides a Universal Quick Change Solution - compatible with industry standard patterns. THe pallet & Vise mounts to all 3, 4, and 5 Axis VMC's and HMC's, rotary tables and tombstones
SPECIALTY FASTENERS
Kwik-Lok Pins
Jergens Kwik-Lok pins provide quick, easy positive engagement and high-holding strength for frequent and repetitive applications. We have over 6,000 standard items in stock and quick turnaround on special grip lengths, handles materials and ball configurations.
True-Lok Toggle Clamps
Jergens True-Lok Toggle Clamps are a top-quality clamping fasteners for a wide range of applications and industries. Our True-Lok Toggle clamps all meet competitors' specifications at a more affordable price.
LIFTING HARDWARE
Lift-Check Hoist Rings
Unlike any other hoist ring on the market, Lift-Check Hoist Rings feature a hex head cap screw visual tension indicator that changes color when it's safe to lift. These hoist rings eliminate timely calibration and ensure the utmost safety when lifting.
Shackle-Lok Hoist Rings
Shackle-Lok combines the strength of a hoist ring with the versatility of a shackle. This below-the-hook lifting device has a unique three-piece design, ideal for a variety of different lift methods with interchangeable shackles.