Jergens latest family of self-centering vises
Featured Product from Jergens, Inc.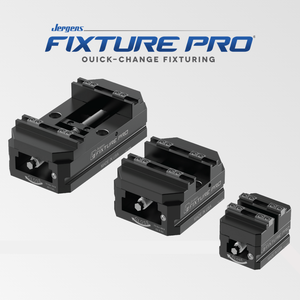 Jergens Fixture-Pro® Self-Centering Vise Line
Jergens latest family of self-centering vises has been engineered to be the ideal solution for low profile five-axis workholding. Available in both 130mm and 75mm widths.
Welcome to the NEW Jergens Workholding Solutions Lean Your Machine blog!
Jergens Workholding products focus on getting the most productivity from CNC machining, increasing spindle uptime, elimination of setup errors for faster part-to-part changeovers.
Jergens Inc.
Since its founding in 1942, Jergens Inc., has become a leader in manufacturing technology. Our products include Workholding Components and Fixturing Systems; Quick Release Pins and a full line Hoist Rings / Lifting products. Jergens is committed to helping its customers achieve leaner, more profitable manufacturing and continue to add product and engineering solutions for an integrated approach to "Manufacturing Efficiency".
Jergens Inc., is an ISO 9001:2008 certified company located in Cleveland, OH., USA.
Specialties
Workholding Componenets & Systems, Quick Release Pins - Kwik-lok Pins, Machine Vises, 5-Axis workholding, Hoist Rings