Maximizing Capacity of a Vertical Machining Center
Featured Product from Jergens, Inc.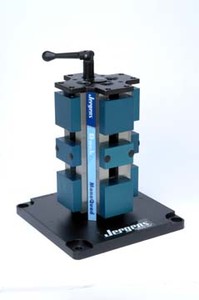 Rimrock Corporation:Case Study
APPLICATION: Maximizing Capacity of a New Vertical Machining Center

BACKGROUND: Founded in 1956 as a manufacturer of automatic lubrication systems, Rimrock has expanded to supply products including ladles, sprayers, extractors and complete turnkey robotic systems. As an exclusive integrator for ABB robots, Rimrock designs, manufactures and installs systems for applications ranging from material handling to parts finishing for the die casting, forging and foundry industries. Rimrock customers rely on the company's 24-hours/day accessibility, a consideration in all aspects of the Rimrock operation, including design, manufacture and service.
ISSUE:
Rimrock manufactures industrial spray equipment, including several handheld spray guns that require machined castings for the bodies. These castings were machined on a Brother® TC 229 vertical machining center (VMC) using a progressive, manually loaded fixture that finished one spray gun per cycle with separate setups required for each spray gun model. According to Rimrock Machine Shop Manager Wes Dodge, "Moving each different part through progressive fixtures tied up the Brother TC 229 which we also use for manufacturing many other parts. We were challenged to keep up with sales demand with short lead times – this was a real problem."
2-1/2 days required to set up and run kanban loads for each of three spray gun models
Ongoing machine operator overtime costs to maximize machine usage

Machinist Jason Richardson agreed with Dodge, "We were always playing catch up to try and free up the Brother TC 299. We needed to find a better way."
SOLUTION:
Rimrock purchased several new Hardinge® VMCs, one of which was dedicated to machining these spray gun castings. They also purchased a Jergens 4" monoquad vise with a round base for use with a Troyke NC-10-B indexer. In addition, Rimrock precision-machined the Jergens full-faced vise plates to exactly accommodate the dimensions of the spray gun castings.

This combination of new machine and workholding enabled Rimrock not only to access and machine all operations on multiple models without moving the parts through progressive fixtures, but also to free up availability of the Brother TC 229 for other parts manufacturing. As a result:
Cycle time improved by 60%
Actual manned labor hours reduced by 50%
Jergens Inc
Jergens Inc., is an ISO 9001:2015 certified, world leader in manufacturing industrial workholding solutions, specialty fasteners and lifting hardware in Cleveland, Ohio.
WORKHOLDING
Quick change fixturing
Jergens is a world leader in quick-change fixturing. Our industry-standard Ball-Lock Mounting System quickly and accurately locating fixtures on machine tables. Fixtures can often be exchanged in less than a minute and with position repeatability of +/-0.0005" (+/-0.013mm).
Multi-axis workholding
Our Universal Vise & Pallet provides a Universal Quick Change Solution - compatible with industry standard patterns. THe pallet & Vise mounts to all 3, 4, and 5 Axis VMC's and HMC's, rotary tables and tombstones
SPECIALTY FASTENERS
Kwik-Lok Pins
Jergens Kwik-Lok pins provide quick, easy positive engagement and high-holding strength for frequent and repetitive applications. We have over 6,000 standard items in stock and quick turnaround on special grip lengths, handles materials and ball configurations.
True-Lok Toggle Clamps
Jergens True-Lok Toggle Clamps are a top-quality clamping fasteners for a wide range of applications and industries. Our True-Lok Toggle clamps all meet competitors' specifications at a more affordable price.
LIFTING HARDWARE
Lift-Check Hoist Rings
Unlike any other hoist ring on the market, Lift-Check Hoist Rings feature a hex head cap screw visual tension indicator that changes color when it's safe to lift. These hoist rings eliminate timely calibration and ensure the utmost safety when lifting.
Shackle-Lok Hoist Rings
Shackle-Lok combines the strength of a hoist ring with the versatility of a shackle. This below-the-hook lifting device has a unique three-piece design, ideal for a variety of different lift methods with interchangeable shackles.