New three- and four-sided pyramid risers
Featured Product from Jergens, Inc.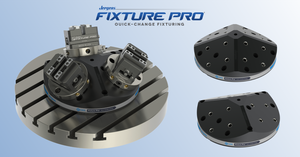 VIEW OUR PYRAMID FIXTURE BROCHURE
Jergens Pyramid Risers Provide a New Angle for Multi-Part, Five Axis Machining Productivity
We are pleased to announce the release of our new three- and four-sided pyramid risers that permit multi-part load and provide greater access for five axis machining applications. Part of the Fixture-Pro® line of quick-change modular workholding solutions, our pyramids feature a 30-degree mounting surface to ensure maximum clearance for spindle and cutting tool paths resulting in more machining per setup.
The engineered solutions offer three versatile mounting options. Direct-to-table uses t-slots, center pin and timing key, and is secured using t nuts and Socket Head Cap Screws (SHCS). QLS accurately locates and clamps the pyramid to a base element, such as subplates, using a combination of QLS shoulder screws and SHCS. Quick-Loc™ pallet systems use pull studs (spaced at the industry-standard 96mm pattern) to locate and clamp in a single step.
The light-weight aluminum risers are compatible with virtually all five axis CNC machining centers and ensure the fastest change over and setup times possible. Available in both three-position and four-position configurations, Jergens pyramid risers mate with many top tooling choices including self-centering vises, dovetail vises and ER collet fixtures.
Welcome to the NEW Jergens Workholding Solutions Lean Your Machine blog!
Jergens Workholding products focus on getting the most productivity from CNC machining, increasing spindle uptime, elimination of setup errors for faster part-to-part changeovers.
Jergens Inc.
Since its founding in 1942, Jergens Inc., has become a leader in manufacturing technology. Our products include Workholding Components and Fixturing Systems; Quick Release Pins and a full line Hoist Rings / Lifting products. Jergens is committed to helping its customers achieve leaner, more profitable manufacturing and continue to add product and engineering solutions for an integrated approach to "Manufacturing Efficiency".
Jergens Inc., is an ISO 9001:2008 certified company located in Cleveland, OH., USA.
Specialties
Workholding Componenets & Systems, Quick Release Pins - Kwik-lok Pins, Machine Vises, 5-Axis workholding, Hoist Rings