Our new Zero-Point Mounting System (ZPS)
Featured Product from Jergens, Inc.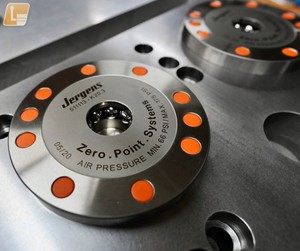 Zero Point Mounting System
Fix, Position and Clamp in a Single Step with Jergens' Zero-Point Mounting System. This revolutionary technology cuts set-up time by up to 90% by combining fixing, positioning and clamping in a single operation. Available with either pneumatic or hydraulic release, these positive locking locating modules allow operators to quickly change out large and small machine fixtures with extreme accuracy and minimal effort.
Welcome to the NEW Jergens Workholding Solutions Lean Your Machine blog!
Jergens Workholding products focus on getting the most productivity from CNC machining, increasing spindle uptime, elimination of setup errors for faster part-to-part changeovers.
Jergens Inc.
Jergens Inc., is an ISO 9001:2015 and AS9100:2016 certified, global manufacturing leader in Workholding, Lifting and Specialty Fasteners products.
Specialties
Workholding Componenets & Systems, Quick Release Pins - Kwik-lok Pins, Machine Vises, 5-Axis workholding, Hoist Rings