Save Time & Money with Jergens 5-Axis Solutions!
Featured Product from Jergens, Inc.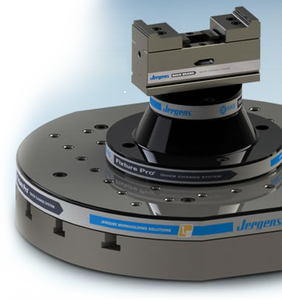 Click to view or download the 5-Axis Quick Change Fixturing Brochure.
Click to view or download the 5-Axis Low Profile 130mm Self Centering Vise
Jergens Fixture Pro® 5-Axis Quick Change Workholding
Save Time & Money with Jergens 5-Axis Solutions!
Getting your spindle and cutting tool close to the workpiece without running into obstructions is a challenge on a 5-axis machine. Jaws and other vise components, and even the machine table itself, can restrict your access and prevent you from machining multi-sided parts. Your only choice is stopping the machine and repositioning your part ...until now, with the Fixture Pro® 5-axis workholding system from Jergens
How does it work?
The basis of the system is very simple:
RAISE the part, RIGIDLY clamp it,
and RAPIDLY change it out.
Maximize Efficiency.
If your workholding is diminishing the value of your 5-axis machine, the manufacturing efficiency experts at Jergens can help. Our Fixture Pro® 5-Axis Quick Change System is the complete solution for all your 5-axis workholding needs.
Jergens' unique modular system features a variety of riser sizes and styles to get your part off the table and allow unrestricted access. But what about applications which also require aggressive metal removal? This system was built with rigidity in mind, from uniquely designed pull studs to 5-axis vises and dovetail clamps. This added rigidity helps maintain accuracy, even in your most aggressive roughing and finishing operations.
Best of all, you can integrate this system with our best-selling Ball Lock®
Mounting System, for quick change capabilities even at the subplate level.
Welcome to the NEW Jergens Workholding Solutions Lean Your Machine blog!
Jergens Workholding products focus on getting the most productivity from CNC machining, increasing spindle uptime, elimination of setup errors for faster part-to-part changeovers.
Jergens Inc.
Since its founding in 1942, Jergens Inc., has become a leader in manufacturing technology. Our products include Workholding Components and Fixturing Systems; Quick Release Pins and a full line Hoist Rings / Lifting products. Jergens is committed to helping its customers achieve leaner, more profitable manufacturing and continue to add product and engineering solutions for an integrated approach to "Manufacturing Efficiency".
Jergens Inc., is an ISO 9001:2008 certified company located in Cleveland, OH., USA.
Specialties
Workholding Componenets & Systems, Quick Release Pins - Kwik-lok Pins, Machine Vises, 5-Axis workholding, Hoist Rings