Small but mighty!
Featured Product from Jergens, Inc.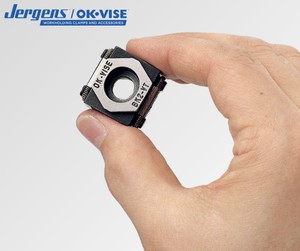 OK-Vise® Multi-Rail RM System - Fixture Sets
Multi-Rail is the new generic-purpose workholding system of Jergens/OK-VISE. Compared to a traditional machine vise, the Multi-Rail system offers the following benefits:
Modular system components provide endless fixture configurations
Using the components of the system, even the most challenging workpiece types can be machined
Multiple workpieces can be clamped in the same area
Well suited for both small and large workpieces
Base Rails can be mounted to Jergens QLS Grid System
Welcome to the NEW Jergens Workholding Solutions Lean Your Machine blog!
Jergens Workholding products focus on getting the most productivity from CNC machining, increasing spindle uptime, elimination of setup errors for faster part-to-part changeovers.
Jergens Inc.
Jergens Inc., is an ISO 9001:2015 and AS9100:2016 certified, global manufacturing leader in Workholding, Lifting and Specialty Fasteners products.
Specialties
Workholding Componenets & Systems, Quick Release Pins - Kwik-lok Pins, Machine Vises, 5-Axis workholding, Hoist Rings