Water Jet Closed Loop Filtration Systems: Jet Edge
Product Announcement from Jet Edge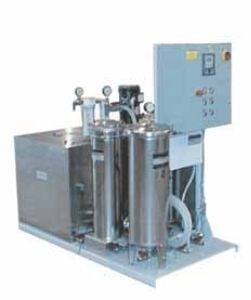 Closed Loop Filtration Systems are specifically designed for waterjet cutting or water jet cleaning systems overflow water to the drain. Dissolved solids are the metals that are dissolved in water from the water jet cutting process. Filtration of the tank overflow will remove some of the suspended solids and spent abrasive. However, these overflow to drain systems do not remove dissolved solids. If your local or state municipality mandates that you must not overflow to drain, closing the loop is the only option.
Why Add a Closed Loop System to Your Waterjet System?
Eliminate the drain completely. No dissolved solids go to drain. All overflow water is filtered and reused.
Protect your high pressure pump. The closed loop system always supplies the specified water conditioning water quality to the high pressure pump. The results are reduced pump maintenance and machine downtime.
Maximize orifice life, reducing maintenance, maximizing performance
Reduce High water/sewage costs
Incoming water supply not sufficient
Drastically reduce the requirement for make up water treatment such as softeners, reverse osmosis (RO), or deionizing (DI) water systems. The small amount of make up water needed is treated before it goes to the high pressure pump.
Well and septic water system
Potential water rationing geographic area
No drain in facility or drain not accessible
Reduce water consumption -usually 2% to 10% of normal usage
ISO 14000 requirement
Webinar: Waterjet Cutting: Tips for Increasing Productivity and Reducing Costs
REQUEST INFORMATION ABOUT JET EDGE WATERJETS
If you are interested in this product, you also may be interested in Jet Edge's other precision waterjets.
< See Precision Waterjets Brochure
Options and Accessories
Closed Loop Chiller

View Larger Image
Removes heat from the catch tank overflow and cools the hydraulics on the high pressure pump.
Product Specifications
Printable Specifications - Model CLS 138 - 4 GPM - View Document
PDF
Printable Specifications - Model CLS 141 - 2 GPM - View Document
PDF
---