Angular accelerometer for general testing
Featured Product from Jewell Instruments, LLC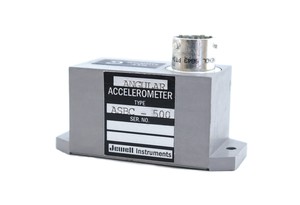 The Jewell ASB Series Angular Accelerometer is a general-purpose ±200 radian/second² to ±1000 radian/second² device for industrial, commercial and sensing requirements.
Features and Benefits:
Bandwidths to 200 Hz
IP68 Seals
Available 28V Aircraft Input
Connector or Pin Configuration
Aerospace Quality and Reliability
Applications:
Antenna Stabilization
Torque Measurement and Control of Motors
Automotive Angular Acceleration Testing
Optical System Stabilization
Autopilot System Input
Jewell Instruments is a world leader in the manufacture and distribution of panel meters, avionics components, inertial sensors, and precision solenoids. Jewell Instruments provides custom solutions for a diverse group of industries, including aerospace, medical, industrial, telecommunications, and many more. Jewell Instruments' experienced engineering team works with customers to produce high quality, reliable products that meet or exceed all customer requirements.
Get the latest news from Team Jewell.
Follow us on Facebook and Twitter, Google+ or join us on LinkedIn.