2800L Kneader Reactor Sent to India
Featured Product from Jiangsu Sunkaier Industrial Technology Co., LTD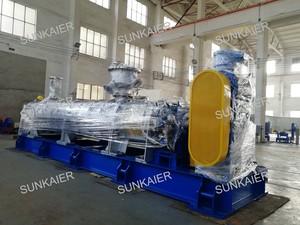 Kneader Reactor Sent to India
Applicable industry:
Rubber, Adhesive, Resin, Painting, Silicone, Plastic, Food, Agriculture, Cosmetics, Pharmacy, etc.
Introduction:
SUNKAIER Kneader Reactor is specially designed to handle viscoplastic phases and large amounts of heat removal to maintain the proper reaction mass temperature for dry processing high viscosity material bulk polymerization.
The Kneader Reactor technology offers the following outstanding advantages for dry processing applications:
1.Excellent mixing and kneading of pasty and high viscosity phases (>1000 Pa s);
2.Large working volume reactors efficiently handle large production volumes;
3.Large heat exchange surface areas maximize productivity;
4.Excellent self-cleaning;
5.Narrow residence time distribution;
6.High flexibility in terms of production capacity;
7.Enclosed eco-friendly design;
8.Robust design, suitable for handling high viscosity materials;
Website: www.sunkaier.com
Welcome to know more about our company, We specialized in manufacturing the chemical equipments more than 20 years. If you have any requirements, please feel free to contact with me, thanks in advance.