Kneader Reactor SK3000
Featured Product from Jiangsu Sunkaier Industrial Technology Co., LTD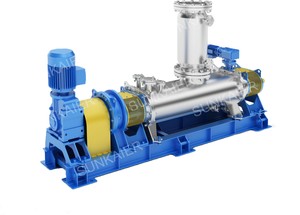 SK3000 - KRC Kneaders
SK3000 - KRC Kneader is a horizontal, twin screw, closed type continuous kneading/reacting processor. KRC Kneader has developed for the complishments as continuous polymerization / reacting processor for engineering plastics and others. Compared to twin screw extruder, KRC Kneader has compact structure such as short L/D and low power while having equivalent kneading and dispersion performance and contributing to rationalization of manufacturing process and cost reduction. Especially KRC Kneader offers several advantages over batch mixing. If required longer residence time and higher production capacity, continuous reactor, plug-flow is available.
Features
Excellent kneading and dispersion capability despite short L/D
Compression and elongation action accompanying rotation of paddle and shearing action with narrow clearance provide improvement kneading and dispersion effect.
Unlimited arrangement of paddles
The paddles can be changed individually. Therefore the optimum paddle arrangement pattern can be selected according to the application and purpose. These selections of paddle arrangement enable the Kneader to control residence time and axial pressure distribution of the materials.
Excellent self-wiping performance
The co-rotating shafts and close clearances between paddles and between the paddles and barrel walls provide efficient uniform mixing. This prevents material build up inside the barrel and results in a self-wiping action.
Easy maintenance and cleaning.
Typical Applications
Polymerization and Reaction for

Engineering Plastics ( Polyacetal, Polyamide, Polyurethane, etc.)
Kneading for

Plastics (Epoxy, Polyamide, Polyester, etc.)
Kneading for

Chemical Products (Sealing material, Powder Paints, etc.)
Kneading for

Electric Material Products (Battery material, Ceramic, Carbon , EMC, etc.)
Lab test and pilot test can be performed.
Typically in one to three days of testing, feasibility can be proven and the machine can be configured to suit the specific product and mixing needs.