Laser precision etching
Service Detail from Jiangyin Deli Laser Solutions Co., Ltd.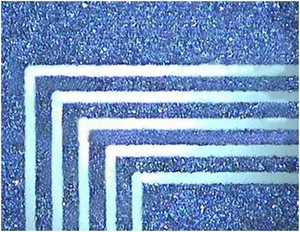 Laser patterning or selective etching for metal and other coatings on PET, glass or other substrate. It is a process that removing required layer and no hurt to any other layer. We could do any pattern quickly, no mask required and chemical pollution to the product. We have succeeded in double side etching of different patterns.
Etching abilities:
ITO, Ag, Au, chrome coating etc.
Min line width of production: 20/20um
Min line width of R&D: 10/10um
Precision: +/- 5um
Size: 500*500mm or roll to roll etchingWe can produce laser etching according to your requirements. More types of laser etching wanted, please contact us right now!