Laser Cutting of Dupont Kapton Polyimide
Service Detail from Jiangyin Deli Laser Solutions Co., Ltd.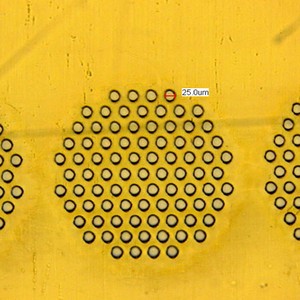 DuPont Kapton polyimide films are among the most versatile materials available and are extensively used in industries such as medical, biotech, aerospace, automotive, and photovoltaics. Our technology can machine (hole drilling, cutting, etc.) every type of Kapton polyimide material.
Our capabilities include laser micromachining of micro-holes, blind holes, channels, complex shapes, washers and patterning.Precise channels can also be milled into Kapton polyimide and filled with conductive pastes or nano-materials.