3 Channels RF Rotary Joint
Featured Product from JINPAT Electronics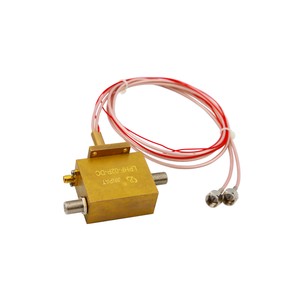 The HF rotary joint is a dual channel coax rotary joint that transmit analog and digital signal. It has a working frequency of DC-2.2 GHz. It supports single channel or multiple channel HF signal transmission, and hybrid transmission of HF signal, control signal, communication signal, power supply, and fluid etc. Small and light with compact design, it is easy to install. Coaxial cable and F type connector is used for the part. It can be applied in Satellite Antenna, Air Traffic Control Radar, Video Surveillance System, Communication System, and ECM (Electronics Countermeasure) System. With a high integration, it is also cost-effective with rapid delivery.
Specification
Channels: Channel 1/ Channel 2 Channel 3
Working Frequency: DC-2.2GHz DC
VSWR, max: 2.0
VSWR Variation: 0.25
Insertion Loss, max: 2.5 dB (Typical Value 1.0dB)
Insertion Loss Variation: 0.25 dB
Isolation, min: 30 dB (Typical Value 1.0dB)
Peak Power, max: 500 W
Average Power, max: 5 W
Current: 1.0 A 3.0 A
Voltage: 0-24VDC 0-48VDC
Connector Type: F (75Ω) SMA
Working Speed, max: 60rpm
Working Temperature: -20~+80°C
Storage Temperature: -30~+85°C
Life: 2 Million Turns
For more solution, please contact us.