Compact 80 Circuits Slip Ring
Featured Product from JINPAT Electronics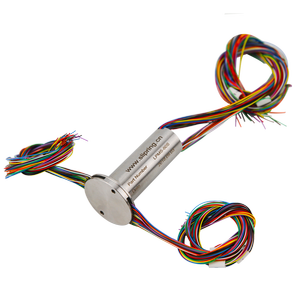 The high-precision slip ring is characterized by its small dimension, many rings, compact structure, high precision, and low electrical noise. For the third quarter of the year 2018, JINPAT has launched a capsule slip ring of 80 circuits with compact design. It has an outer diameter of 17.4mm and length of 50.8mm. Stainless steel housing with corrosion resistance gives a high intensity and hardness. The part has been handled to keep a reliable performance in high & low temperature. The super mini part transmits various signals with a starting torque of no more than 0.00006N.m.
Features
Circuits: 80 ckt*1A
Voltage: 100V AC/DC
Outer Diameter: 17.4; Length: 50.8mm
Starting torque: ≤0.00006N.m
Rotor wires outlet is in lateral side, meeting different installation needs of customers
Working Speed: 0~300 rpm
Working Temperature: -20°C~+60°C
Application
Precise Instruments
Micro Equipment
For more solution, please contact us.