Compact Mercury Slip Ring
Featured Product from JINPAT Electronics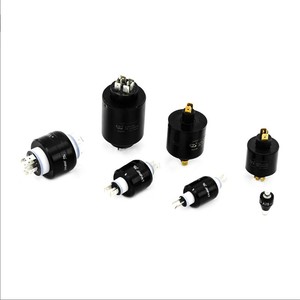 Mercury Slip Rings manufactured by JINPAT are electrical rotating connectors adopting mercury as the media to transmit electricity or signals. Different from conventional carbon brush slip rings, the connectors, being a kind of industrial parts, can achieve electricity transmission without carbon brush technology. Compared to other slip rings, these slip rings with liquid media make possible more compact sizes. Especially, it is very suitable for those micro precise instruments where power transmission is required. Moreover, no complicated physical mechanical structure makes the mercury slip rings free of maintenance with a high rotating speed. The part is also features a long service life.
Features
Poles: 2 Poles
High working voltage of 250VAC/DC
Aluminum alloy/Stainless steel housing
High working speed up to 2000rpm
Low electrical noise (1mΩ)
Maintenance free
Application
Precise Instruments
Micro Equipment
For more solution, please contact us.