Ethernet and USB2.0 Integrated Slip Ring
Featured Product from JINPAT Electronics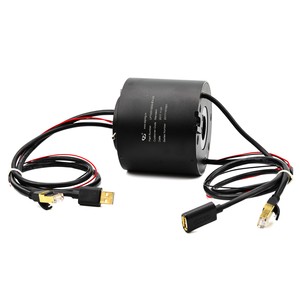 The 11 circuits' slip ring is designed exclusively by JINPAT transmitting Gigabit Ethernet and USB2.0 signal. It is an integrated slip ring routing multiple signals, maintaining the leading position in its field with advanced design idea and manufacturing technique. It has passed in-house tests and been acknowledged by customers. It features integrating various signals into one unit with joint connection. Entertaining reliable performance, it's easy to install. It has provided optimal solution for automation industry.
Features
2ckt*2A, 8ckt*Gigabit Ethernet, 1ckt*Ethernet
Be able to transmit power, Gigabit Ethernet, USB2.0 and common signals at one time
No surge kind of interference or data package loss
Light and compact figure
Optional rotating speed and wire length
Technical support
For more solution, please contact us.