JINPAT Slip Ring for Aviation & Aerospace
Featured Product from JINPAT Electronics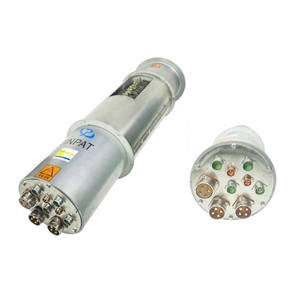 The slip ring integrates transmission of current, electrical signal and HF signal, optical signal into one unit. The current ring can load a current ranging from 1A to 200A while the signal ring is for routing differential signal, video signal, Ethernet, and control signal. HF part and optical part are given 2 channels respectively for signal transmission. Considering its multi-circuit structure, the part is adopted a modular design to ease the assembly obstacles. In the meantime, the concentricity of the product is in charge. All aspects are in proper management covering material selection, fine finishing, and assembly tolerance. While the dimension fit the installation space, it also settles the interference between current and signal transmission. Most importantly, all wires connection is achieved by means of flying lead.
Features
Circuits: 2* 200A, 10*180A, 16*60A, 12*10A, 2*2A, 2*5A, 16*Signal, 2* Fiber optic signal, 2*HF signal
Voltage: 270VAC, 115VAC, 28VDC
Dielectric Strength: ≥2500V@50Hz (power), ≥300VAC@50Hz(Signal)
Working Speed:0~20 rpm
Inner Diameter: 398mm
Contact: Precious metal, copper graphite
Housing: Aluminum alloy
Working Temperature: -55°C~+70°C
Protection Grade: IP65
For more solution, please contact us.