Rotary Joint Supporting Integrated Transmission
Featured Product from JINPAT Electronics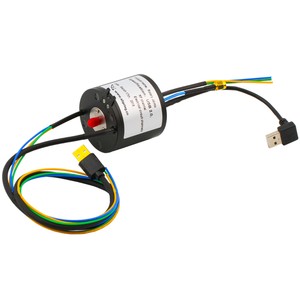 It is a high-precision unit that integrates electrical and HF signals. Adopting special construction and manufacturing technology, the integrated part enjoys a stable transmission with no interruption, holding a leading position with originality in its field. The remarkable point lies in its integration with HF rotary joint, which is certified by in-house tests and acknowledged by customers. Wires are connected by connectors or joints, quick and convenient. Performance is reliable without interruption or data package loss. Light and compact, the part lowers the weight of whole machine with an easy installation.
Features
(electrical part)
3*5A, 1* USB, 1*HF (8ckt in total)




Working Speed: 0~200 rpm

Working Temperature: -20~+60°C
(RF part)
Frequency:DC-18GHz

VSWR, max: 1.5

VSWR Variation: 0.05

Insertion Loss, max: 0.3dB

Insertion Loss Variation: 0.05dB

Peak Power: 5KW

Average Power, max: 200W@1GHz

Phase, WOW: 1°

Starting Torque: 2 Ncm Max

Rotating Speed: 500 rpm

Weight: 60g

Life: 10 million turns
For more solution, please contact us.