Single-Channel Multi-mode Fiber Optic Rotary Joint
Featured Product from JINPAT Electronics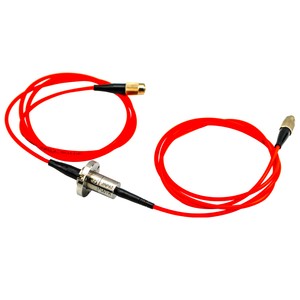 JINPAT has invented a single-channel optical slip ring with multi-mode fiber, which is proven to have a long life of more than 100 million revolutions. Finishing the final tests, it has been thrown into mass production. Such a fiber optic rotary joint can be used individually or integrated with electrical parts. It has a transmission rate of over 100 Gb/s with 50 channels at most. Essentially, it is fairly resistant to dust and water and adaptable to wide temperature. Also, the sturdy figure with superb material allows it to have a good vibration and shock resistance. Small and light figure eases its updating.
Specification
Working Speed: 2000 rpm
Wavelength: 850-1310mm
Insertion Loss: within 2dB
Return Loss: within 45dB
Fiber Type: 50/125 um (Multi mode)
Connector Type: FC/SC/ST/LC
Tension: ≤10N
Working Temperature: -40°C~+85°C
Fiber Jacket Type: 0.9mm,2mm, 3mm PVC/Armored
Vibration Resistance: MIL-STD-167-1A
Shock Resistance: MIL-STD-810G
Protection Grade: IP65/IP68
For more solution, please contact us.