Slip Ring Routing Air & Electricity
Featured Product from JINPAT Electronics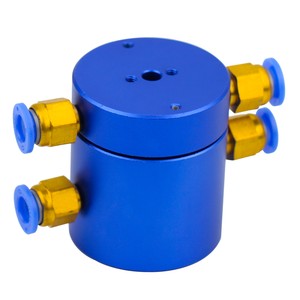 The slip ring that transmits both signal and air is designed by JINPAT based on through bore part. Actually, it is developed especially for transmitting switch signal (2A) in 4 circuits and air in 2 passages. It retains a reliable and excellent performance under the circumstances of different media and pressure. Moreover, it has a good sealing performance with imported sealing rings, high-precision machining operations and advanced surface processing technique. To meet more challenging needs, JINPAT technology can integrate pneumatic rotary joint with electrical part, coax rotary joint, waveguide rotary joint, and fiber optic rotary joint.
Features
Circuits: 4* Signal, 2*Air
Voltage: 56V
Dielectric Strength: ≥300V@50Hz
Insulation: 200MΩ@300VDC
Working Speed:0~150 rpm
Contact: Precious metal
Housing: Aluminum alloy
Working Temperature: -20~+60°C
Protection Grade: IP54
Application
Rotary Platform
Food Processing Industry
Automatic Production Line
Metallurgical Industry
For more solution, please contact us.