Through Hole Slip Ring for Automatic Welding Robot
Featured Product from JINPAT Electronics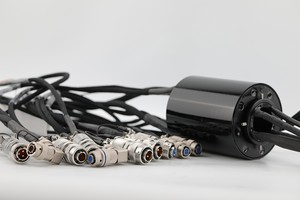 JINPAT Electronics has developed a through hole integrated slip ring for the welding robot. It realizes 360° unrestricted rotation of welding robot, and the number of slip ring circuits can reach more than 500. It can transmit Ethernet, USB, RS, CANBUS, FireWire, servo motor signal, encoder signal, strain gauge, thermocouple, HDMI HD. A variety of signals, such as video, and can be integrated with the gas and hydraulic slip ring.
Technical Advantages
Solved the problem of various signal and current transmission of welding robot.
It can be integrated into the gas and hydraulic slip ring to solve the gas-hydraulic transmission function during the 360° rotation of the device.
With characteristics of high protection, stable transmission, long life, maintenance-free.