Frick® Screw Compressors
Featured Product from Johnson Controls / FRICK / YORK PROCESS SYSTEMS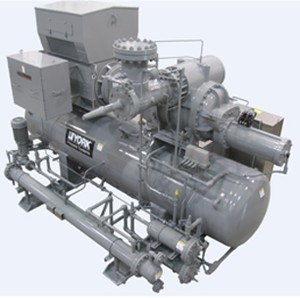 The Frick® Screw Compressor product line is engineered and manufactured to meet your heavy industrial refrigeration and gas compression requirements in accordance with API 619 standards. It is designed to assure reliability, accessibility and ease of service with over 14,500 in active service. In addition, its advanced energy-saving features reduce operating costs significantly.
Features & Benefits
72 to 8,212 CFM (122 to 13,952 M3/hr)
Up to 6,000 hp (4,474 kW)
Electric motor, gas engine or steam turbine drive
Slide valve for efficient capacity control
Variable volume ratio (Vi) eliminates over/under compression
Open-cycle gas compression and closed-cycle refrigeration service
Hydrocarbons, natural gas, CO2, hydrogen, halocarbons, mixed gases, ammonia and others
Designed in conformance with API 619
Specifications
Gases Range: Hydrocarbons, halocarbons, ammonia, CO2 and other alternative refrigerants
System Duty type: Both closed-cycle refrigeration and opencycle gas compression
Material: Cast iron, nodular iron, and cast steel, with design working pressures to 600 psig
Bearings: Antifriction bearings throughout to provide superior rotor positioning and minimize frictional losses - also eliminates the need for an oil pump in many applications
Sour gas bearing options: brass, PEEK, and high-heattreat steel
Seals: Single mechanical with optional dualcartridge tandem seal with dry or wet-running outboard seal and support system
Capacity Control: Slide valve for accurate capacity turndown to as low as 10% load, plus variable volume ratio to match compression to system requirements.
Motor Mounting Typical: D-flange motors on small to mid-size applications eliminates field alignment. Foot-mounted motors available in mid to large sizes.
Other Advantages: Internal oil passages and straight-thread O-ring style connectors in lube system minimize potential leakage.