You Just Can't Beat a Frick® Compressor
Featured Product from Johnson Controls / FRICK / YORK PROCESS SYSTEMS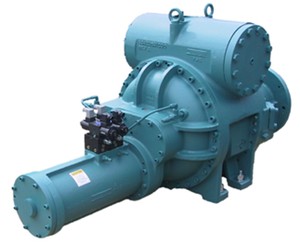 The Frick® SGC, SGCH & SGCB screw compressors are designed to compress a variety of gases in many different applications including refrigeration, air conditioning, water chilling, wellhead compression, gas gathering, and vapor recovery.
Applications include booster duty (low temperature/pressure), high (single) stage, or swing duty compression.
Features & Benefits
Stepless Capacity Control
Variable Volume Ratio
Antifriction Bearings
Wide variety of Drive and Motor Arrangements
Oil Injection Lubrication and Cooling
Internal Oil Passages
Made in the USA
Specifications
Driver Types: Electric Motor, Engine, TurbineDrive Arrangement: Directly driven by the male rotor in the clockwise direction as viewed from the driver
Minimum Driver Speed RPM: 600
Maximum Driver Speed RPM: 4500
Max. Inlet Pressure psig (barg): 150.0 (10.3)
Max. Outlet Pressure psig (barg): 600.0 (41.4)
Castings: ASTM A48 class 40 gray cast iron or equivalent for pressure-retaining parts. Alternate casing material is ductile iron grade 60-40-18 per ASTM A395 and ASME SA 395 including a Charpy V-notch test at -4°F(-20°C) and a material certificate type 3.1 per EN 10204. Material is similar to European standard EN 1563, material designation EN-GJS-400-18.
Flanges: Suction and discharge flanges comply with ANSI B16.1.
Rotors: AISI 1141 low carbon steel.
Bearings: Rolling elements and rings are AISI 52100 medium carbon alloy steel.
Static Seals: HNBR O-rings. Viton® also available.
Dynamic Seals: Carbon filled teflon.
Shaft Seal: Spring-loaded stationary carbon end face rides in a stainless steel carrier against a rotating nonmagnetic cast iron alloy (Ni-resist) floating seat. The assembly is fully balanced and capable of sealing high pressure, but is vented to low pressure to extend seal life. Secondary seals are HNBR or Viton® O-rings.