Portable 110V AC Yoke: JAY-PAC & JAYSON-PAC
Product Announcement from Johnson and Allen, Ltd.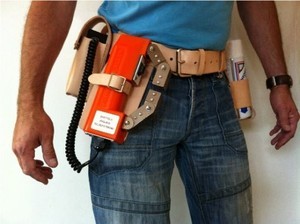 The future in portable inspection yokes has arrived. Using the market proven JAY and JAYSON electromagnets as a base, Johnson and Allen researched and developed ways of making them portable.
Unwilling to retreat from this task and using DC yokes as an easy way out, we wanted a way of maintaining the sought after "skin effect" created by AC yokes (Which gives the highest levels of defect detection clarity), while still having the unit powered by a lightweight battery. The result was the 'AC-EAZY' Powerbelt - A Tool-belt design than can convert 12V DC into 110V AC.

A JAY-PAC and JAYSON-PAC include one of either our industary tested 110V JAY or JAYSON yokes along with one of our patented 'AC-EAZY' Powerbelts and packaged in a durable foamed carry case.

The 'AC-EAZY' Powerbelt consists of:
1 x Inverter unit - Converts 12DC to 110V AC.
1 x 18Ah Lithium battery. (Lightweight at only 1.25Kg)
1 x Fast-charge battery charger. (Includes several common plugs)
1 x Leather belt. (2" Thick)
1 x Leather Inverter-Battery double pouch.
1 x Leather yoke holder.
2 x Leather aerosol holders.
1 x Durable carry case with foam inserts.
The leather we use is thick Steeple Jack type leather - It's incredibly hard wearing and will last for years. Extra belt pouches and holders can be purchased too.

When full, the battery typically holds enough charge for a standard 8 hour inspection shift without the need to be charged during those hours.

The JAY-PAC and JAYSON-PAC are both manufactured in the UK at our Sheffield branch where we offer refurbishment and repair services if needed.
Patents applied for "Self contained body mounted MPI AC System": UK 1117266.5, GB 1212644.7 and US 2013088220A1.
---