UV LED Lamp: Neolectron-2
Product Announcement from Johnson and Allen, Ltd.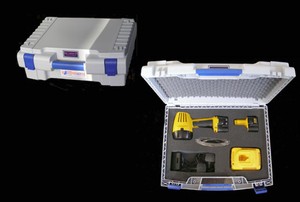 The Neolectron-2 is a battery operated 12V 365nm wavelength LED inspection lamp - Suitable for MPI.

Following in the footsteps of our now discontinued Neolectron, the Neolectron-2 offers even more than the first iteration.
Features include:
3 hours running time on 1 battery pack. (2 supplied)
Output over 3000 micro watts per cm sq at 400mm. (with less than 5 lux white light)
Over 150mm in beam-spread.
Guarantees high levels of safety by consuming only 12 Volts.
More environmentally friendly than older 100 Watt Mercury vapour lamps and will pay for itself in energy savings alone.
Supplied in a durable carry case with fitted foam inserts, the Neolectron-2 outperforms 100 Watt Mercury vapour bulbs in both UV output and in bulb life; Typically lasting 15,000 hours.
Two batteries are supplied as standard but more can be purchased separately if needed.
The Neolectron-2 also features a "fuel "gauge" so operators can determine the usage time remaining in the batteries and an alarm to notify operators when UV output has dropped.
---