Acme and Stub Acme Machine Screw Bearing Blocks
Featured Product from Joyce/Dayton Corp.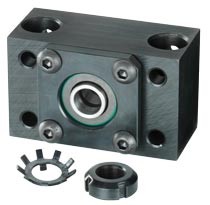 Every screw assembly requires a means of supporting the rotational axis of the screw and absorbing radial and axial force components. Joyce provides a line of bearing block supports for screw and nut assemblies. Standard supports are available for Ball screws, Acme and Stub Acme machine screws, and Metric (trapezoidal) screws. Our bearing mounts are sealed and greased at the factory. They are suited for high duty cycle conditions.
Select the type of screw used in the assembly to view details:
Machine Screw Bearing Blocks
Ball Screw Bearing Blocks
Metric Screw Bearing Blocks
*Note: Bearing blocks used in screw & nut assemblies may not be rated for the same static load as the screws or nuts with which they are used. Contact Joyce/Dayton to verify that bearing blocks are adequately sized for the required loads
Simple Single Bearing Supports (SB) - a deep groove radial ball bearing.
Simple radial supports
Designed for radial loads only
Float of bearing in the housing allows for thermal shaft expansion
Predrilled for face or foot mounting
Simple Double Bearing Supports (DB) - a set of angular contact bearings.
Simple support
Designed to support a combination of radial and axial loads
Predrilled for face or foot mounting
Industry standard for interchangeability
Fixed Double Bearing Supports (FB) - a set of spaced angular contact bearings.Fixed bearing supports increase angular dynamic system stiffness.
Allow greater compressive column strength
Increase effective length of column and critical speed capability of system
Designed to support a combination of radial and axial loads
Predrilled for foot mounting
Predrilled taper pin reaming to suit final assembly