Custom Solar Trackers to meet unique applications
Featured Product from Joyce/Dayton Corp.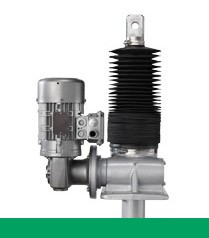 Custom Solar Trackers
Joyce/Dayton remains committed to providing custom drive solutions to meet unique application demands. These products are used to position PV systems, solar dishes, CPV, heliostats, and large arrays in utility and commercial installations. We also provide jacks used in ingot production. Solar installations around the world are driven by custom designed systems developed by Joyce/Dayton. These competitive cost solutions may include:
Outdoor paint process for superior external protection
ComDRIVE ratios customized to achieve optimum travel speeds
Motor voltage and horsepower tailored to meet installation requirements
End conditions and mounting options designed for ease of installation
Joyce/Dayton's knowledgeable and experienced engineers along with their responsive customer service staff provide the optimum customer experience - from design through implementation.
Standard products frequently modified for the solar industry include:
Solar Products
Joyce/Dayton, a global manufacturer and provider of solar tracking jacks and actuators, has been providing drive solutions to the solar industry for nearly two decades. Our products are currently in service on major installations world-wide to move PV systems, large commercial arrays, heliostats, CPV systems, and in ingot production. Since 1873, Joyce/Dayton has been providing innovative and cost effective solutions. We have the expertise to provide reliable designs that meet the demands of the solar industry.
JAX Online
Our easy-to-use JAX® Online software enables you to specify the right jacks and components for your ideal lifting and linear motion systems. You can start with a complete set of requirements, or just a few simple inputs, and let JAX Online suggest the perfect components. The detailed reports created are complete and ideal for inclusion in technical project files, saving you time and minimizing headaches.
Use JAX Online to:
Size jacks and complete systems, from any computer
Automatically configure and download 2D and 3D models of specific jacks
Save files to your private account and return to your designs at anytime
Evaluate multiple combinations and options before choosing your final design
Automatically generate a bill of materials in real-time
Request a quote and transmit your requirements with a single click
JAX Online is just one more example of how Joyce/Dayton is committed to providing designers and engineers with the tools they need to succeed.
Sign up for the Joyce/Dayton E- Newsletter
Joyce/Dayton Corp. is a leading manufacturer of Machine & Ball Screw Jacks, Electric Cylinders, and Linear Actuators for OEM's worldwide. In business since 1873, Joyce/Dayton offers a diverse product selection, ranging from basic lifting devices to custom designed lifting systems with controls.
Specialties
Machine Screw Jacks and Ball Screw Jacks, Electric Cylinders and Actuators, Solar Tracking Actuators, Complete Systems, Responsive Technical Assistance & Customer Service, Stainless Steel Screw Jacks.