Durable Stainless Steel Jacks - many applications
Featured Product from Joyce/Dayton Corp.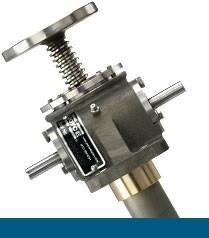 Joyce Stainless Steel screw jacks are specifically designed for lifting and positioning applications that are located in wet, corrosive environments. Available in 2-ton through 25-ton and 75-ton capacities, these jacks meet unique application requirements for many industries including:
Food Handling
Paper Mills
Wash down applications
Coastal and Marine applications
Extreme cold weather applications
Ideal for non-sparking environments
*************************************************************
Design Tip for Engineers and Designers
Work smart and save a ton of time. Register today to use Joyce's JAX Online software. This unique software allows you to size jacks to your specifications and then lay out a complete system. It even generates technical data sheets. Check out the videos below, then register online.
JAX Online is just one more example of how Joyce/Dayton is committed to providing designers and engineers with the tools they need to succeed.
A Proven Leader
Joyce/Dayton Corp., the premier manufacturer of Screw Jacks, Actuators, and Lifting Equipment in North America, has remained in continuous operation since it was established in 1873. Our long history of designing and manufacturing high quality products is unparalleled in the industry. Joyce Engineers are tenured and have the expertise needed to develop innovative solutions for today's customers.