Jacks & Actuators for the Food Packaging Industry
Featured Product from Joyce/Dayton Corp.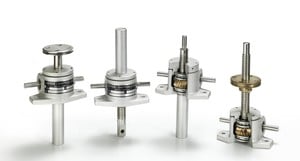 Joyce Jacks and Actuators are designed for moving and positioning loads in all types of environments.
Miniature jacks feature stainless steel input shafts and lifting screws These compact jacks weigh just over 1 pound , but can lift a whopping 2000 pounds.
Stainless steel jacks offer washdown properties for capacities up to 25-tons. All external surfaces of these jacks are stainless steel or aluminum bronze. They are also great for low temperature applications.
Electric cylinders are available in 2.5-ton to 20-ton capacities. These feature ground and hard chrome plated inner tubes. A variety of outer coatings are available for exterior surfaces. These are a great alternative to hydraulic cylinders. Joyce can customize electric cylinders with specific electric motors to meet your requirements.
^^^^^^^^^^^^^^^^^^^^^^^^^^^^^^^^^^^^^^^^^^^^^^^^^^^^^^^^^^^^^^^^^^^^^^^^^
JAX® Online
Register today to use our exclusive JAX® Online software which enables you to specify the right jacks and components for your ideal lifting and linear motion systems. You can start with a complete set of requirements, or just a few simple inputs, and let JAX Online suggest the perfect components. The detailed reports created are complete and ideal for inclusion in technical project files, saving you time and minimizing headaches. WATCH VIDEO
Use JAX Online to:
Size jacks and complete systems, from any computer
Automatically configure and download 2D and 3D models of specific jacks
Save files to your private account and return to your designs at anytime
Evaluate multiple combinations and options before choosing your final design
Automatically generate a bill of materials in real-time
Request a quote and transmit your requirements with a single click