Joyce/Dayton Jacks in Glass Handling Applications
Featured Product from Joyce/Dayton Corp.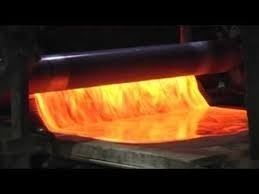 Joyce/Dayton Jacks are vital to the production of glass for flat screen TVs, automotive windshields, windows, bottles and more. Screw jacks lift and position oven doors and furnace dampers. They raise and lower oven doors and adjust glass plate cutters.
Common Glass Handling Applications
Adjust glass plate cutters and washers
Level ovens, raise/lower oven doors
Component in glass cutting machinery
Glass bending
Adjust furnace dampers
Solution Design Specifications
Self-locking jacks hold position of load
Ball Screw jacks and Electric Cylinders
High temperature lubricant and seals available
Aluminum-coated fiberglass boot option
**************************************************************************
Joyce offers a complete line of machine screw and ball screw jacks and electric cylinders which are routinely customized to meet the high speed or high-temperature requirements of glass production.
Joyce/Dayton provides complete mechanical systems including motors, gear boxes, shafting and control systems enabling the customer to purchase all jack related products from one source. Our experienced Application engineers provide practical solutions that enhance the performance of screw jacks in glass manufacturing applications.
Complete Lifting Systems
Joyce/Dayton provides complete lifting systems customized to your environment and unique industry specifications.
To find your solution:
Contact an experienced Application Engineer at sales@joycedayton.com or (800) 523-5204
Try JAX® Online, our free, web-based linear motion design software at joycedayton.com/jax-online
JAX Online is easy to use — see for yourself!
Quick Start Jack Selection - WATCH NOW
Quick Start System Building - WATCH NOW
**************************************************************************
Joyce/Dayton a Trusted Leader
Here is why it's easy to do business with Joyce:
Joyce, providing innovative solutions since 1873
Highest quality products backed by exceptional warranty
Experience meeting unique glass manufacturing requirements
Full line of Machine Screw and Ball Screw jacks
Optional aluminum-coated fiberglass protective boots
Free online design software
Commitment to total customer satisfaction
Outstanding on-time delivery record