Joyce/Dayton Serves the Food Packaging Industry
Featured Product from Joyce/Dayton Corp.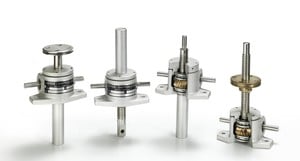 Did you know that jacks and actuators manufactured by Joyce/Dayton Corp are used extensively by the food processing industry?
Equipment manufacturers are using our light-weight miniature jacks and integrated actuators to move and position loads up to 1-ton. These jacks have aluminum housings and may also feature stainless steel components. Integrated Actuators have the added bonus of an integral NEMA 56C motor mount which simplifies mounting.
A Proven Leader
Joyce/Dayton Corp., the premier manufacturer of Screw Jacks, Actuators, and Lifting Equipment in North America, has remained in continuous operation since it was established in 1873. Our long history of designing and manufacturing high quality products is unparalleled in the industry. Joyce Engineers are tenured and have the expertise needed to develop innovative solutions for today's customers.