Joyce Jacks in Conveyor Equipment Applications
Featured Product from Joyce/Dayton Corp.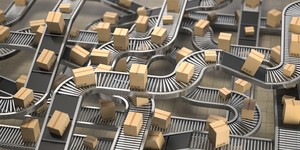 Joyce/Dayton Jacks and Electric Cylinders are widely used in conveyor applications. They adjust height and width to accommodate varying product dimensions, operate tilt and transfer mechanisms, and control gates for bottling, packaging, and oven applications.
Joyce offers a full line of screw jacks and electric cylinders. Their standard miniature jacks feature aluminum housings and stainless steel lifting screws, making them perfectly suited for most conveyor applications.
Common Conveyor Equipment Applications
• Adjust height and width of conveyors
• Used on tilt and transfer stations
• Open and close gates
Solution Design Specifications
• Jacks with aluminum housing (anodized option)
• Stainless steel jacks and components
• Electric Cylinders
• Food grade grease
• Variety of options to mount hand wheels & motors
Joyce/Dayton provides complete mechanical systems including handwheels, gear boxes, and shafting enabling the customer to purchase all jack related products from one source. Our experienced Application Engineers offer practical solutions to enhance the performance of Joyce jacks used on conveyors and transfer machines.
Complete Lifting Systems
Joyce/Dayton provides complete lifting systems customized to your environment and unique industry specifications.
To find your solution:
• Contact an experienced Application Engineer sales@joycedayton.com or (800) 523-5204
• Try JAX® Online, our free web-based design software at joycedayton.com/jax-online
JAX Online is easy to use — see for yourself!
Quick Start Jack Selection <<WATCH NOW>>
Quick Start System Building <<WATCH NOW>>
**************************************************************************
Joyce/Dayton a Trusted Leader
Here is why it's easy to do business with Joyce:
• Joyce, providing innovative solutions since 1873
• Highest quality products / exceptional warranty
• Experience in providing solutions for Conveyor industry applications
• Miniature Jacks and Electric Cylinders
• Free online design software
• Commitment to total customer satisfaction
• Outstanding on-time delivery record