Joyce Jacks in the Military & Defense Industry
Featured Product from Joyce/Dayton Corp.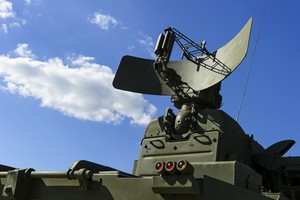 Miltary & Defense Industry Applications
Joyce/Dayton screw jacks and actuators are used by the defense industry in a wide variety of military applications. We designed jacks to raise turrets, stabilize trucks, adjust launch angles, control antenna operations, and meet the functional requirements of many other military and defense applications.
Joyce/Dayton provides complete mechanical systems including motors, gear boxes, shafting and control systems enabling the customer to purchase all jack related products from one source.
Common Military & Defense Applications
Reliably position rocket launch mechanisms
Position Earth station antennas
Construction of aircraft maintenance equipment
Stabilize truck and transport vehicles
Solution Design Specifications
Precisely position loads up to 250 tons
Customized jacks to withstand rugged environmental conditions
Anti-backlash devices available
**************************************************************************
Joyce/Dayton a Trusted Leader
Here is why it's easy to do business with Joyce:
Joyce has been providing innovative solutions since 1873
Highest quality products backed by exceptional warranty
Experience meeting military system requirements
Full line of Machine Screw and Ball Screw Jacks
Free Online Design Software
Products are customized to meet specific customer needs
Commitment to total customer satisfaction
Outstanding on-time delivery record
Complete Lifting Systems
Joyce/Dayton provides complete lifting systems customized to your environment and unique industry specifications.
To find your solution:
Contact an experienced Application Engineer at sales@joycedayton.com or (800) 523-5204
Download JAX® Online, our free, browser-based software at joycedayton.com