Joyce Jacks in the Oil & Gas Industry
Featured Product from Joyce/Dayton Corp.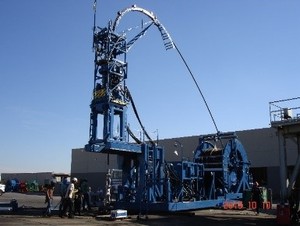 Joyce/Dayton self-locking screw jacks are build to withstand extreme conditions such as oilfields and big rigs. Their characteristic self-locking design allows them to withstand massive loads required to close choke valves and stabilize pressure plates. Smaller jacks are ideal for inserting flow testing equipment into gas lines. Standard jacks (up to 250 tons) and stainelss steel jacks (up to 25 tons) are available.
Common Oil & Gas Industry Applications:
Open and close choke valves
Raise mast beams
Flow testing equipment
Stabilizing trucks and trailers
Stabilizing pipeline pressure plates
Joyce/Dayton provides complete mechanical systems including motors, gear boxes, shafting and controls enabling the customer to specify all jack related products from a single, reliable source. Experienced Application Engineers offer practical solutions to enhance the performance of Joyce jacks in oilfield and testing applications.
Solution Design Specifications:
Heavy-duty, self-locking screw jacks
Large capacity steel jacks
Adaptations for outdoor applications
Stainless steel and anodized aluminum jacks
**************************************************************************
To find your solution, contact an experienced Application Engineer at sales@joycedayton.com or (800) 523-5204.
Download JAX® Online, our free, browser-based software at joycedayton.com
**************************************************************************
Joyce/Dayton a Trusted Leader
Here is why it's easy to do business with Joyce:
Joyce has been providing innovative solutions since 1873
Highest quality products backed by exceptional warranty
Experience with the Oil & Gas Industry
Outdoor paint process available for severe environments
Free online design software
Commitment to total customer satisfaction
Outstanding on-time delivery record