Lead Screw & Nut - Components & Assemblies
Featured Product from Joyce/Dayton Corp.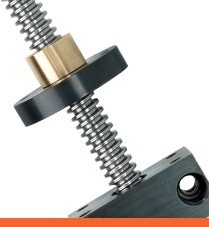 MACHINE SCREWS & NUTS • BALL SCREWS & NUTS
Joyce/Dayton offers everything from cut lengths of screw stock and nuts to complete assemblies including finished screw ends, flanged nuts and bearing block supports. Components and Assemblies are offered at competitive pricies and with favorable lead times.
ACME 2C •STUB ACME 2C • TRAPEZOIDAL (metric) • BALL SCREW
Screw Stock - Machine screw and Ball screw stock available in stock lengths
Nuts and Flanged Nuts - Machine Screw nuts available in Bronze or Plastic.
Ball Nuts and Flanged Ball Nuts - Ball Screw nuts available in standard capacity. High capacity nuts availble for select ball screws.
Bearing Block Supports - Available for Machine screw and Ball screw assemblies
**************************************************************************
Contact Joyce/Dayton and talk to an Application Engineer about your requirements today!
**************************************************************************
Design Tip for Engineers and Designers
Work smart and save a ton of time. Register today to use Joyce's JAX Online software. This unique software allows you to size jacks to your specifications and then lay out a complete system. It even generates technical data sheets.
Check out the videos below, then register online.
Use JAX Online to:
Size jacks and complete systems, from any computer

Automatically configure and download 2D and 3D models of specific jacks

Save files to your private account and return to your designs at anytime

Evaluate multiple combinations and options before choosing your final design

Automatically generate a bill of materials in real-time

Request a quote and transmit your requirements with a single click
JAX Online is just one more example of how Joyce/Dayton is committed to providing designers and engineers with the tools they need to succeed.
JAX Online tool is easy to use - see for yourself!