Lead Screws & Assemblies (Acme & Ball Screws)
Featured Product from Joyce/Dayton Corp.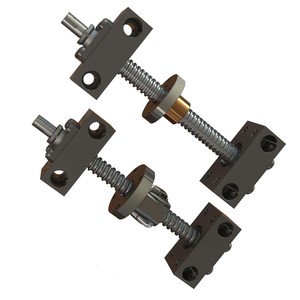 Choose from a wide selection of Lead Screw & Nut Components and Assemblies.
Joyce/Dayton offers everything from cut lengths of screw stock and nuts, to complete assemblies including finished screw ends, flanged nuts and bearing block supports. Components and Assemblies are offered at competitive prices with favorable lead times. Contact Joyce today!
Screw Stock - Machine screw, Trapezoidal (metric) screw, and Ball screw stock available in stock lengths with short lead times.
Nuts and Flanged Nuts - Bronze nuts with steel flanges are standard. Contact Joyce for other materials.
Ball Nuts and Flanged Ball Nuts - Multiple ball nut capacities available for certain ball screw diameters. Choose the capacity that is right for your application.
Bearing Block Supports - Available for Machine Screw, Trapezoidal (metric) Acrew, and Ball Screw assemblies.
***************************************************************************************
Contact Joyce/Dayton today for fast, friendly service and expert technical assistance or try our our complimentary online Screw & Nut Calculator.