Stainless Steel Jacks vs. the Elements
Featured Product from Joyce/Dayton Corp.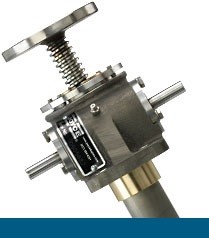 Stainless Steel Jacks vs. the Elements
Advantages of using stainless steel jacks for corrosive- and wet-environment applications have long been in the forefront on systems designed for the packaging industry, paper mills, and other rugged locations, but Joyce stainless steel jacks offer some surprising cold temperature benefits as well.
Regular steel becomes progressively brittle as temperatures drop, increasing the possibility of fractures at sub-zero temperatures. But stainless steel maintains its ductility even at low temperatures. In fact, customers designing for the sub-zero temperatures are turning to Joyce/Dayton engineers for solutions. Joyce offers stainless steel jacks in standard sizes from 2-ton through 25-ton capacities. These jacks offer exceptional environmental protection even at sub-zero temperatures.
Contact Joyce application engineers with your requirements today. We have experience specifying jacks and systems for cold temperature applications. Our experts can customize jacks and systems to meet your specific requirements.
Sign up for the Joyce/Dayton E-Newsletter
Watch our >>>Videos
Joyce/Dayton Corp
A Proven Leader
Joyce/Dayton Corp., the premier manufacturer of Screw Jacks, Actuators, and Lifting Equipment in North America, has remained in continuous operation since it was established in 1873. Our long history of designing and manufacturing high quality products is unparalleled in the industry. Joyce Engineers are tenured and have the expertise needed to develop innovative solutions for today's customers.
A Giant in the Industry
Joyce/Dayton screw jacks and electric cylinders are routinely used to:
Maintain adjustment of large rolls in steel mill operations
Adjust conveyor height in machinery
Move and support huge structural elements used in municipal projects
Operate maintenance and material lifts for many industries
Stabilize and deploy equipment used in heavy mining and drilling operations
Operate gantry systems for dockside and other operations
Provide linear motion solutions in industrial applications worldwide
Joyce Offers Much More
Joyce/Dayton offers more than a catalog of standard products. Fundamental to our longevity and success in business is the commitment Joyce/Dayton makes to quality and service. Choose Joyce for quality industrial screw jacks, actuators and systems. Experience our unmatched Customer Service Support.
It's easy to do business with Joyce!
JAX® Online — The Fastest Way to Your Ideal System
Specify the right jacks and components for your ideal lifting and linear motion systems with our free, easy-to-use JAX Online software. Use JAX Online to configure and download 2/D and 3D models, manage project files, generate a bill of materials in real-time, and request product quotes.
Create an account and start your design today!
JAX Online is easy to use – see for yourself!
Quick Start Jack Selection - Watch Now
Quick Start System Building - Watch Now