SmartDiagnostics® - machine vibration monitoring
Product Announcement from KCF Technologies, Inc.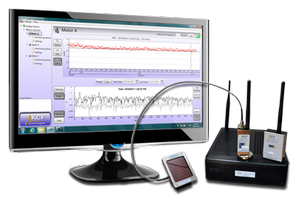 KCF Technologies - Using advanced technology, SmartDiagnostics® provides an affordable, wireless vibration monitoring solution for all sizes of manufacturing operations.
By utilizing SmartDiagnostics® you increase your asset effectiveness in the following ways:
Improve reliability through the prediction and avoidance of equipment failures
Minimize downtime through coordinated scheduling of maintenance needs identified through SmartDiagnostics® with those indicated by other techniques
Maximize performance and output by ensuring equipment is operating within specified tolerances
Reduce energy costs through predictive maintenance or replacement of worn components
SmartDiagnostics® is ideally suited for industries that use machines that have rotating equipment (such as pumps, fans, motors, compressors, chillers, etc.) including, but not limited to:
Power generation
Water and wastewater treatment
Industrial heating and cooling
Paper and metal manufacturing
Food and beverage packing
Oil and gas Industry
Visit the SmartDiagnostics® website for more information.
---