Deep Vacuum Pumps with Dynamic Balancing
Featured Product from KNF Neuberger, Inc.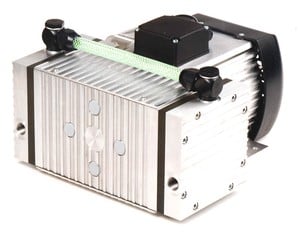 The dynamic mass balancing feature of the model N843 and N880 pumps instantly and automatically compensates for out-of-balance conditions caused by various pressure loads of gas forces. This results in extremely smooth-running characteristics over the entire operating range. These new pumps are especially suitable for use as vacuum roughing pumps used to pump down turbo-molecular pumps. Because the compression chamber is hermetically sealed from the drive mechanism of the pump, the medium being handled remains uncontaminated. Models up to 80 liters per minute with an ultimate end vacuum capability of 1.5 Torr (29.86 "Hg) with a maximum pressure of 15 psig are available.