"Built to Suit" Pump Solutions for OEM's
Featured Product from KNF Neuberger, Inc.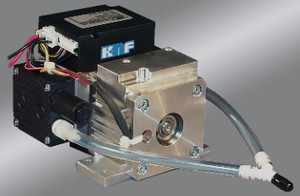 They are typically used for analyzers, medical instruments, printers and in other applications requiring high performance in a compact package.
All standard pump models in the series can be modified by selecting from an array of choices, including performance modifications, various head materials, multiple stages, wetted coatings, motor types (AC, brush DC, or brushless DC with speed control), connections, tubing, and mountings, among the many possibilities.
Regardless of modification, these lightweight pumps (from 0.56 kg to 1.8 kg) share key features designed to optimize operation and performance. All models are equipped with a patented structured diaphragm delivering high pneumatic performance and efficiency; operate without oil to ensure uncontaminated flow of the pumped medium; and integrate tough valve structures to easily handle vapor and condensation. They require virtually no maintenance and can be mounted in any position.
Depending on model, standard mini pumps can provide flow rates up to 20 l/m, achieve up to 27 in. hg vacuum levels with a single stage, and operate against pressures up to 35 PSIG. Modifications can expand the potential uses for these pumps to better fit your application.
Some design targets include motor types, price limits, size constraints, special shock mounting, special finishes or coatings, low acoustic and EMI/RFI noise, low power consumption and weight limits, just to name those frequently requested. We've even made a special model of ceramic and gold for a process application, but you don't have to go to that extreme to get a good fit for your project.
With over 300 patents and 60+ years of experience to draw from, KNF's engineers will design a custom model just for you. Our two dedicated R&D centers and three manufacturing plants, including our own motor plant, offers the flexibility, performance and price you are looking for. Many times, the custom pump is actually less expensive than our standard product, and performs exactly as you intend.
To get the process started, visit our website, knfusa.com or call us at 609-890-8600.