Standard & Custom Double Diaphragm Pumps
Product Announcement from KNF Neuberger, Inc.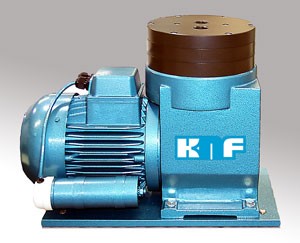 KNF Neuberger, Inc. manufactures a range of custom double diaphragm pumps, and will modify a design to match your specific application. Double Diaphragm Vacuum Pumps and Compressors provide greatly increased safety. The double diaphragm pumps are especially suitable where safety and gas tightness are essential, e.g., with toxic, radioactive or particularly expensive gases.
A second diaphragm is located underneath the working diaphragm. This second diaphragm is under less mechanical stress when the pump is operating and is designed to outlast the working diaphragm. If gas should leak thru the working diaphragm, it will still remain inside the pump space. As an available option, a port can be added so that the space between both diaphragms can be monitored for pressure changes, so that any damage to the working diaphragm will be detected immediately and the pump shut down.
Pumps with the KNF Double Diaphragm System are employed for toxic, corrosive, and expensive and dangerous gases and are available in corrosion-resistant materials.
---