High Pressure Liquid Micro Pump to 145 PSIG
Featured Product from KNF Neuberger, Inc.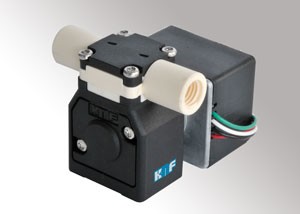 Recently announced addition to the KNF liquid pump line is the high pressure version NF1.5_DCB-4 transfer and metering pump. It features a long-life, low EMI/RFI premium quality 4-wire brushless dc motor, with integrated logic-controlled variable-speed motor controller.
The new NF1.5 belongs to the KNF Flodos tradition of high pressure liquid pumps. It is ideal to pump liquid and liquid-gas mixes up to 60 ml/min. It can handle pressures up to 90 PSIG - and up to 145 PSIG on request - not only intermittently, but continuously and over the entire life-time of the pump.
The pump has a patented valve system, is highly efficient and offers a high ratio size/ performance. It is self priming, can run dry, is maintenance free and offers a long life time. As for all KNF pumps there is a selection of materials which can be used for the wetted materials ensuring that it can be used for most neutral and aggressive liquids / gases. The KNF modular system contains a wide range of motors, voltages and frequencies to enable the selection of an optimal solution for every application. The new NF 1.5 covers a wide range of applications including medical devices, analytical instruments, fuel cells, ink jet printers, semi conductors, cleaning and disinfection devices, water treatment.