KNF USA Custom Pump Capabilities
Featured Product from KNF Neuberger, Inc.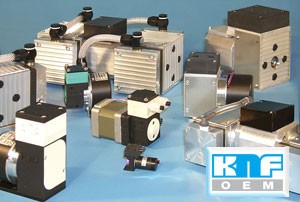 KNF Neuberger, Inc. specializes in custom diaphragm vacuum pumps, liquid pumps and compressors for the OEM, lab and process industries located in the USA, Canada & Mexico, within the below specifications:
Flow: 0.45 LPM to 300 LPM (0.016 CFM to 10 CFM )

Vacuum: 29.96 in. Hg, <0.5 mbar, 0.375 Torr
Liquid pumps
Flow: 0.05 LPM to 3 LPM (.75 GPH to 48 GPH)
KNF air and gas pumps for neutral to highly-corrosive or difficult materials. Just as our standard pump designs have evolved, so has our ability to quickly optimize their performance.
Because of our experience with many materials of construction, motor types, and custom modifications, we can easily build a pump that will fit your specific application needs. Chances are, we've already built a pump for a similar application.
These precision liquid pumps are capable of moving air, gases and liquids while simultaneously creating a vacuum. They are self-priming and can run dry indefinitely. Their unique, one-piece molded diaphragm is usually found in more expensive pumps. There are no exposed metal wetted parts to corrode, extending pump life. KNF offers a choice of wetted parts materials, including polypropylene and PTFE.
KNF oil-free LABOPORT® pumps are used with all brands of rotary evaporators, filtration apparatus, vacuum ovens, gel dryers, vacuum concentrators and solid-phase extraction devices.
Consider a KNFLab® pump for quiet, reliable operation without the messy handling of pump oil, or the expense of operating water aspirators. They are the perfect replacement for maintenance-intensive rotary-vane pumps in situations where corrosive vapors may be encountered.
KNF Process pumps provide rugged, durable performance for a wide variety of industrial applications. For over 50 years, KNF heavy-duty pumps excel where others fail, while handling even the most difficult corrosive applications in industrial environments.
Included in the KNF product range are:
• Heated-head and heat-resistant sample pumps for analyzers
• Pumps for use in explosive atmospheres, including ATEX-rated pumps designed to safely handle rare or dangerous gases
• High flow sampling pumps for the chemical industry
• Deep vacuum pumps reaching <0.5 mbar end vacuum